Meet Dr. Stephen Anderson (Retired)
Founder of Anderson Sobel Cosmetic Surgery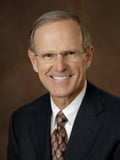 For over twenty years, Bellevue facial plastic surgeon Dr. Stephen B. Anderson helped thousands of patients from all over the world achieve their ideal appearances. He was voted among America's Top Physicians by the Consumers' Research Council of America.
With his 20 plus years of experience in facial plastic surgery, Dr. Anderson built a foundation of the highest level of patient care for Anderson Sobel Cosmetic surgery—and Dr. Sobel is continuing this tradition with the practice now that Dr. Anderson has retired.
Born and raised in Seattle, Washington, Dr. Anderson received his undergraduate degree from Stanford University. He then attended the University of Washington School of Medicine where he received his M. D. degree in 1971. After six more years of post graduate training, including Facial Plastic and Head and Neck Surgery at the University of California at San Diego School of Medicine, Dr. Anderson established his private practice as a cosmetic surgeon of the face, head and neck in Bellevue in 1977.
Dr. Anderson's Credentials
Dr. Anderson is a board certified surgeon and held membership in, and/or accreditation by, the following professional medical organizations:
Fellow, American Academy of Facial Plastic & Reconstructive Surgery
International Society of Hair Restoration Surgery
Fellow, American College of Surgeons
Diplomat, American Board of Otolaryngology/Head & Neck Surgery
Clinical Instructor, University of Washington School of Medicine
American Medical Association
Washington State Medical Association
King County Medical Society
If you would like to know more about the offerings at Anderson Sobel Cosmetic Surgery, contact us today to schedule your complimentary consultation.