Seattle Mommy Makeover
There are so many rewarding aspects of motherhood, but there is one drawback: pregnancy noticeably changes most women's bodies. To combat this, women are combining breast and body procedures, now commonly referred to as a mommy makeover. Seattle cosmetic surgeon Dr. Alex Sobel can help you recapture and restore your youthful, pre-pregnancy body.
Ensuring your safety in a mommy makeover
Choosing to have cosmetic surgery is a very personal decision—and it's important that you feel safe, comfortable, and confident with the surgeon and practice you choose. At Anderson Sobel Cosmetic Surgery, we are fully committed to your safety and comfort.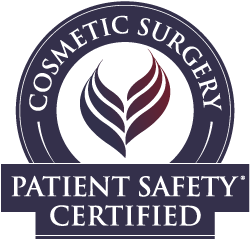 Because a mommy makeover typically involves combining several surgical procedures, it's critical that patients choose a doctor who operates in a facility with hospital-level safety measures in place. You and your family can rest assured knowing that our private operating suite is accredited by the Accreditation Association for Ambulatory Health Care (AAAHC). Our surgery suite is well-appointed with your safety and comfort in mind.
In addition, Dr. Sobel is Cosmetic Surgery Patient Safety® certified by the American Board of Cosmetic Surgery.
What does a mommy makeover procedure include?
It is safe for most patients to have both breast and body contouring in one operation. Some women will even add in some light facial rejuvenating procedures. In other words, a mommy makeover is all about what you want to look your best. Here are some of the most popular procedures you might consider including:
Body Contouring
Pregnancy, weight fluctuations, or genetics can cause the abdominal skin and muscles to sag and stubborn fat deposits to develop over time—concerns that can be nearly impossible to correct with diet and exercise alone. Mommy makeovers often include at least one of these safe and effective body contouring options:
Breast Enhancement
Breast surgery can successfully correct a variety of breast aesthetic concerns, such as small or deflated breasts, asymmetrical breasts, or underdeveloped breast tissue. Dr. Sobel excels in several breast surgery options, so whether you are looking for a volume boost with implants, seeking a light lift, or even a reduction, there is a breast enhancement option for you.
Facial Rejuvenation
Complete your mommy makeover transformation with a bit of facial rejuvenation. Many mothers come to us with concerns of aging, wrinkles, sun damage, stress, and fatigue — as they all take a toll on your skin over time. Dr. Sobel and our team of skin experts offer a full range of premium, non-surgical facial treatments that can give you an instant refresh!
Create your custom mommy makeover plan
You can start putting together a wish list with our WishList feature. Or, contact us today to schedule a personal consultation, and Dr. Sobel will listen carefully to your concerns and help you choose the right procedures. Your patient care coordinator will also guide you through the whole process, helping you with planning and financing, if needed.
Do I have to be done having kids before I get a mommy makeover?
You don't have to be done having kids before you get a mommy makeover, but there is one caveat. While it is safe to become pregnant after having a tummy tuck, your results will be affected. So, if you plan to continue growing your family, it is best to save a tummy tuck procedure for after you are done having kids. In the meantime, you can choose any other procedures of the face, breast, and body that will enhance your confidence, and enjoy the results through future pregnancies.
How much does a mommy makeover in Seattle cost?
The price of a mommy makeover in Seattle depends on which procedures you are including in your mommy makeover plan. If you'd like to get a general idea of the total cost of your mommy makeover, you can combine procedures with our mix & match pricing tool. Please note that these prices are ballpark estimates, and can vary based on the extent of the procedure needed to achieve your desired goals.
After your consultation with Dr. Sobel, you will be provided with a detailed fee quote for your consideration. We are happy to answer any questions you may have about paying for your cosmetic surgery, and we also have financing options available.
Funding your mommy makeover procedure
At Anderson Sobel Cosmetic Surgery, we believe everyone should have access to cosmetic medicine, and we therefore strive to make payment for services clear and easy. We have partnered with companies that offer convenient financing solutions for patients by providing extended financing options, low monthly payments, and convenient customer service. If you would like to apply for financing, please contact our office to get started! It's very easy to apply!

---
Special Offer for Breast Enhancement Patients:
Here at Anderson Sobel Cosmetic Surgery, our primary goal is making sure our patients feel well taken care of, comfortable, and thrilled with their experience and results. We know recovery can be a tough time emotionally and physically, so we want to treat our breast enhancement patients (including mommy makeover patients!) to a special gift!
After your breast enhancement procedure with breast implants, we want to offer you a choice of one complimentary treatment or product:
Love your lips: one free syringe of lip filler
Lose your lines: one complimentary BOTOX treatment
Limited time offer available to patient who have completed a breast enhancement procedure with implants. Contact us today to book your procedure and claim your gift!
---
Your mommy makeover recovery & results
Recovery
Because it is a combination of several surgical procedures, recovery following a mommy makeover does take some time. Depending on the extent of your procedure, plan for to take at least two weeks off work. As a general rule of thumb, you can go by the recovery time of the most extensive procedure in your mommy makeover, as that will take the longest to heal. If you have young children, it is important to prepare for their care in addition to your own during this time.
You'll need a couple of days after surgery to take it easy and let the effects of anesthesia wear off. Expect to lay down 90% of the time and walk around a little in between to promote good circulation and prevent the formation of blood clots. In most cases it's fine to shower (but not bathe) 3 days after surgery. Just be gentle with incision sites and pat them dry when you're done. You may be tempted to get back into your busy daily routine, but it's important to keep your heart rate and blood pressure moderated for several weeks to avoid bleeding around incision sites, as well as modify muscle movements to protect healing results.
Recovery following cosmetic surgery can be an incredibly emotional process. Just as you should prepare yourself for your physical recovery, you should likewise have an idea about what to expect emotionally and mentally as your body heals and your final results take shape.
Results
After your recovery, you can go out in public to flaunt your results as soon as you feel comfortable doing so. To keep your surgery under wraps, however, it's best to keep the area out of sight until post-op bruising and swelling have gone away. Scars can appear bright pink for several months, but they are usually easy to conceal with cosmetic products if you desire. When cared for properly, surgical scars will continue to heal and fade beautifully over time.
It's important to understand that while your results will look great within two to four months after surgery, they won't be final for up to one year. Fortunately, the most dramatic changes occur in the first few months and are subtle thereafter.
View results in our gallery
Dr. Sobel has performed thousands of cosmetic surgeries on happy patients in the Seattle area. To view real patient transformations and see what kind of results you can expect from breast, body, or facial rejuvenation surgery, please visit our before and after gallery.
Why choose Seattle cosmetic surgeon Dr. Sobel for your mommy makeover
As an award-winning, triple-board certified surgeon in general cosmetic surgery, cosmetic facial surgery, and otolaryngology, Dr. Alexander Sobel has extensive experience performing mommy makeover surgeries, including breast augmentation with implants, breast lift, fat transfer breast augmentation, tummy tucks, liposuction, and more. Dr. Sobel had the honor of being voted as a Seattle-area Top Doctor in the Seattle Met's 2018 Top Doctor awards.  Find out why Dr. Sobel's Bellevue and Seattle patients love his safe, consistent results—schedule your mommy makeover consultation online or by calling (425) 453-9060. He will be happy to discuss the best procedures to fit your goals and what you can expect from surgery.
Areas served: