Kybella, Bellevue Double Chin Reduction Injections
Redefine Your Neck Contour, Non-Surgically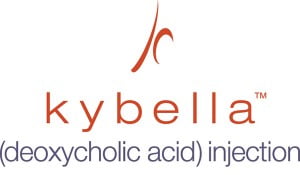 A long, graceful neck can be a sign of youth and femininity—and for men, a strong jawline is the cornerstone of a sharp, masculine appearance. But as we age, a combination of increased skin laxity and stubborn fat can lead to the appearance of a persistent double chin.
Traditionally, slimming areas under the chin and on the neck required surgical intervention, such as a facelift and neck lift or submental liposuction. But now you have a new option: Kybella®.
What is Kybella?
Kybella is an injectable treatment composed of deoxycholic acid that helps reduce moderate to severe pockets of fat below the chin—and it's the first and only treatment of its kind to gain FDA-approval in the United States. Over the course of just a few treatments, Kybella effectively eliminates fat cells in the treated area and provides a more youthful, slimmer neck contour.
How Does Kybella Work?
Kybella is specially formulated with deoxycholic acid, a molecule that naturally occurs in the body to aid in the absorption and breakdown of dietary fat. When Kybella is injected directly into the fat beneath your chin, it effectively destroys the fat cells it comes in contact with, rendering them unable to store or accumulate fat in the future.
What to Expect from Your Bellevue Kybella Treatment
After you and Dr. Sobel have discussed your concerns and designed a treatment plan to address them, Dr. Sobel will carefully and precisely inject Kybella into the areas under your chin. Treatment should be comfortable, though you may experience some tenderness, swelling, and bruising around the injection sites for the first couple days. The entire treatment should take no more than 20 minutes.
While every patient is different, most are pleased with their results within just two to four treatments spaced one month apart. Up to 6 treatments may be administered, though may not be required.
If you'd like to know more about this new treatment, give us a call! We'd love to help you understand your options and find out if Kybella is right for you.