Seattle Hair Removal & Vein Reduction
Whatever your age, skin type, or concern, our top-of-the-line laser can help you achieve your best skin yet.
Our Elite MPX laser boasts multiple laser wavelengths, which we can adjust and blend to safely and effectively treat a variety of skin types and concerns in as little as 30 minutes per treatment, including:
Safe, effective laser hair removal for light, medium, and darker skin
Unwanted hair can be a nuisance, but painful waxing or daily shaving can be a bigger one! If you have been told that your skin is too dark for laser hair removal, or you haven't gotten the results you want in the past, our experienced laser professionals can likely help you where others cannot.
Before & after 2 treatments with the Elite laser.*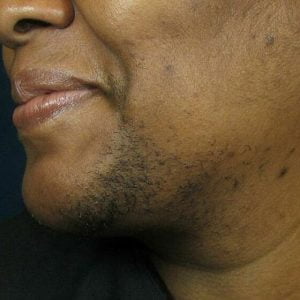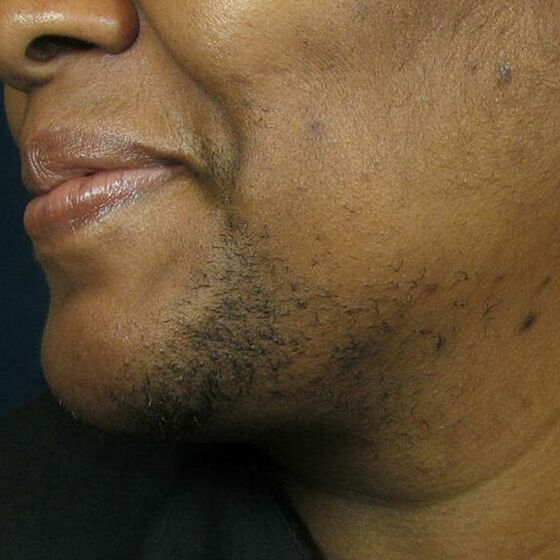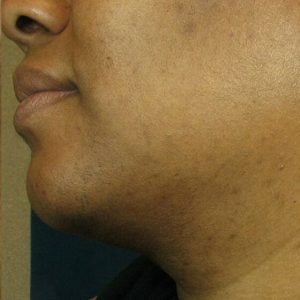 Photos courtesy Cynosure.
With multiple wavelength options—an Alexandrite laser with 755nm wavelength that is ideal for lighter skin, a Nd:YAG with 1064nm wavelength that can safely and effectively treat darker skin, or even IPL to treat fine velus hair—we can customize your laser hair removal treatment to ensure thorough hair reduction with minimal risk of discoloration. By having these optimal wavelength options, we can fine-tune treatment according to the difference in the pigment in the hair shaft to the skin, giving our patients safe and excellent results.
This superior adjustability offers additional benefits for you:
Faster, more comfortable treatment
Targets more follicles per treatment, meaning you may need fewer sessions to achieve your desired results
Little to no downtime
Our promise to you…
At Anderson Sobel Cosmetic, we want you to be happy with the experience and outcome of your treatments with us. We offer a full satisfaction guarantee on laser hair removal packages of 6 or more treatments with the Elite MPX laser as follows:
If you aren't fully satisfied after completing your 6+ treatment series as recommended, we will provide additional treatments for the same area at 50% off the regular per-treatment price for up to one year after the last treatment in your series.
If you love your results after your 6+ treatment series, any future treatments on the same area will still be 50% off the regular per-treatment price for up to one year.
Please contact us for details on this promise.

Minimize sun damage and dark spots in less time with an integrated IPL photofacial
Reducing dark spots, sun damage, and discoloration can do wonders to help you look younger and healthier, and laser resurfacing with the Elite MPX can help you achieve a more flawless complexion, no matter what your age or skin type. Again, it comes down to this laser's unparalleled level of adjustability: we can "mix and match" the shorter and longer wavelengths to target your skin concerns without "over-treating," helping you achieve rapid results with minimal downtime.
Before & after 4 treatments with the Elite laser.*
Say goodbye to spider veins & redness…because they'll disappear in a hurry
Spider veins, broken capillaries and other vascular irregularities are among the most common and bothersome signs of aging for men and women of all skin types. We've had greater success helping patients treat rosacea, reduce redness, and disappear spider veins using the Elite MPX laser than with previous platforms.
The dual-wavelength technology of this laser allows us to target, coagulate and absorb  vessels with immense precision. We can effectively treat red, blue, and purple spider veins on the face, knees, ankles or elsewhere, and it's effective for light to darker skin with little no downtime.
Before & after 5 treatments with the Elite laser.*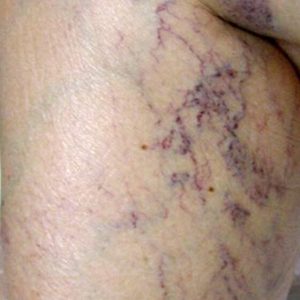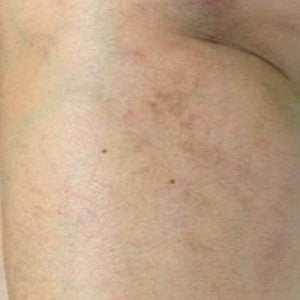 Photos courtesy Cynosure.
Learn how laser treatments can help you achieve any or all of the above
At Anderson Sobel Cosmetic, we are dedicated to helping patients of all ages, ethnicities, and skin concerns achieve their best skin yet. Whether you would like to remove unwanted hair, minimize flaws, restore a brighter, more even complexion, or address other skin concerns, we've got you covered. Call 425-453-9060 for your consultation today!
*Individual results vary.