Obagi Skincare
Love the Skin You're in With Obagi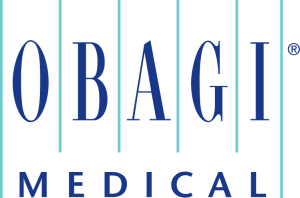 Here at Anderson Sobel Cosmetic Surgery, we are pleased to offer our patients the very best in medical-grade skincare. We carry a diverse line of Obagi products that can help you achieve and maintain healthy, radiant skin. See the products we offer below:
---
Obagi CLENZIderm Acne Treatment
Tired of switching skin care systems in search of the perfect treatment for your acne-prone skin? Look no further than the new CLENZIderm acne treatment line from the trusted Obagi skin care. The CLENZIderm prescription-strength acne therapeutic systemis a scientific breakthrough that represents a significant advance in acne treatment: Studies indicate that no other single acne treatment or combination therapy is proven to work on all three causes of acne, including excess oil, acne-causing bacteria and clogged pores.
CLENZIderm M.D.™ is clinically proven to provide visibly clearer skin in as early as 2 weeks. The CLENZIderm M.D. Acne Therapeutic System uses a combination of salicylic acid and a new, prescription strength gel form of liquefied Benzoyl Peroxide that allows for more rapid and deeper penetration into the skin to control acne quickly. Most topical Benzoyl Peroxides are formulated with insoluble micro-crystals, which remain largely on the surface of the skin, limiting their ability to penetrate beyond outer skin layers. Obagi's patented Soluzyl Technology liquefies the Benzoyl Peroxide resulting in greater penetration within the skin, and thus greater acne-fighting capacity.
---
Obagi Nu-Derm System
As you age and your skin incurs the abuse of daily living (such as sun, stress, pollution), the cell turnover rate slows down. This means that the new cells take longer to form and reach the top. The old cells accumulate and stay on the surface longer. As the stratum corneum thickens and the area of new cells shrink, skin becomes less healthy. You begin to notice those unwelcome signs of aging including: fine lines and wrinkles, freckles and age spots, uneven skin tone, loss of elasticity and loss of natural skin hydration.
The Obagi Nu-Derm System, a physician-prescribed skin care system, accelerates the cellular turnover. This system penetrates below the skin's surface to correct damage in all layers of the skin (the stratum corneum, the epidermis and the dermis). It corrects functions of the skin at the cellular level, to transform skin's cellular function to help it look and act younger and healthier. The System is ideal for:
Age spots or hyperpigmentation
Fine lines and wrinkles
Acne
Improved skin elasticity, texture and reduction of pore size
---
Obagi-C Rx
The Obagi-C RX preventative skin care system is simple and effective, designed specifically to address problems of the aging face. Its many benefits include:
Brighter skin with measurable radiance
Slows the aging process
Treats early sun damage and wrinkles
Evens skin tone
Smoothes and hydrates skin
---
Obagi Elastiderm
ELASTIderm isn't just another eye cream. It really works to reduce the appearance of visible fine lines and wrinkles and bring back the SNAP. And because it contains ingredients that are gentle, yet powerful, it's only available through your skin care professional.
Bi-mineral Complex: Includes zinc and copper to help restore elasticity and build collagen
Malonic Acid: In a patent-pending Obagi formulation that helps stimulate the production of skin cells
Blueberry Extract: Provides antioxidants that help eliminate free radicals which deprive skin of its youthful glow
Penetrating Therapeutics™: An Obagi technology that helps drive the ingredients deep into the skin where it can get to work
---
Obagi Professional-C Serums
The Obagi Professional-C Serums use advanced scientific formulas developed and tested by leading Vitamin C experts. Obagi Professional-C Serums offer maximum daily antioxidant protection and greater penetration than other Vitamin C products. The greater the penetration, the greater the antioxidant benefit to your skin.
Vitamin C neutralizes free radicals to prevent skin cell damage. Professional strength Vitamin C can give your skin the superior protection it needs to:
Prevent premature signs of aging, including fine lines and wrinkles
Protect against future damage
Stimulate collagen production for firmer, more resilient skin
Lighten and brighten skin for more even tone
---
Obagi Blue Peel
Unlike common alpha-hydroxy peels or at-home procedures, the Obagi Blue Peel puts control of your treatment in professional hands. Based on your individual needs and skin condition, your skin professional determines the strength of the peel.
The Obagi Blue Peel uses Trichloracetic Acid (TCA) as the active ingredient mixed with the patented Blue Base from Obagi. Your skin professional will apply the Obagi Blue Peel based on your level of damage and your desired level of Transformation.
The Obagi Blue Peel procedure takes less than an hour in your Physician's office and does not typically require sedation. Your skin professional will apply the Blue Peel typically to your face and neck. A mild burning sensation will occur that generally lasts only a few minutes. Then you may experience a bluish tint to your skin that usually washes off in 12 to 24 hours. Your skin professional will advise you on how many peels are needed to give you the desired result
Depending on the strength and depth following the procedure, you will experience light swelling. Within two to three days, your skin will begin to peel. This peeling continues over the next several days. By the seventh to tenth day, your skin should be healed.
Once your skin has completely recovered and is finished peeling, you will notice a visible improvement in your complexion. Your skin's appearance should continue to improve for the next four to six weeks, becoming firmer, clearer, smoother, healthier and more youthful looking.
Schedule your complimentary consultation today to learn more about the Obagi Skin Care System.