Keep Your Skin Merry & Bright With These Top 5 Travel Beauty Tips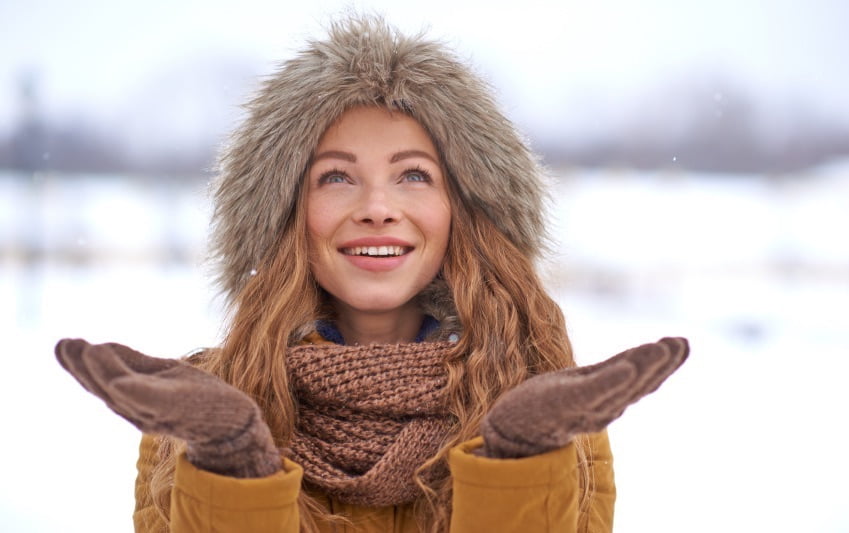 The holidays are almost here and chances are you'll be packing your bags to visit friends and family. Whether you're stepping onto an airplane or buckling up for a car trip, there are some potentially skin-damaging concerns that come with winter travel.
Did you know that cold winds, dehydration, recycled airplane air, and traveling to a different climate can all wreak havoc on your skin? Luckily, we've rounded up some of our favorite professional skincare tips to help keep your skin happy while traveling this holiday season.
Check out our top beauty travel tips for clear and bright skin all winter long:
1. Moisturize, moisturize, moisturize!
Keeping your skin hydrated is the best defense against the drying effects of winter travel—and the right moisturizer can replace dry, flakey skin with a healthy glow. Your favorite facial moisturizer is a good start, but you'll want to adjust your arsenal to keep skin fresh over the holidays. Throughout winter, upgrade light lotions to thicker, more moisturizing creams. Also be sure to pack a great lip balm with SPF and your favorite eye cream.
2. Pause harsh products
Acne fighters and retinols are powerful ways to improve your skin, but try limiting use of these treatments before and during travel. These products can cause irritation and increase dryness, which can be damaging to your already at-risk skin during winter travel. Also avoid peels or resurfacing treatments a few weeks before departure so your skin is at its strongest when you travel. You can continue treatments when you return, after your skin has had a few days to adjust to your normal climate.
3. Drink plenty of water
Feeling and looking your best requires staying hydrated. It may seem obvious, but it's also one of the most important things you can do for your skin. A little airplane cup won't give you the hydration you need to stay fresh, so bring a large water bottle to sip during the flight and keep it filled throughout your trip. Your body will thank you, inside and out.
4. Never skip SPF
Whether you're traveling to warm beaches, wintry ski slopes, or one town over to relax with family, SPF is advisable every time you go outside. It may be tempting to skip it when the weather is chilly, but your skin needs sunscreen just as much in winter. A moisturizer with 30 SPF or higher, that is based with titanium and/or zinc, is a great way to protect skin, no matter the weather.
5. Book skincare services in advance
Even if you follow all of these tips to the letter, your skin may still need some TLC when you get home. Before you pack your bags, book skincare services for your return—you'll have something great to look forward to after the holidays and you can start the new year with an extra glow! When you go in for your post-holiday skin refresh, just be sure to mention your recent travels so your aesthetician can hear how it affected your skin and adjust as needed.
Here at Anderson Sobel Cosmetic Surgery in Bellevue, we offer a range of professional skincare services, including laser treatments, chemical peels, and microdermabrasion. If you're looking for other ways to refresh your skin at home, don't forget to ask us about medical-grade skincare products for your needs and skin type.
Have your own favorite ways to keep your skin fresh and hydrated while you travel? Leave your ideas in the comments below!