Is Non-Surgical Rhinoplasty Worth it?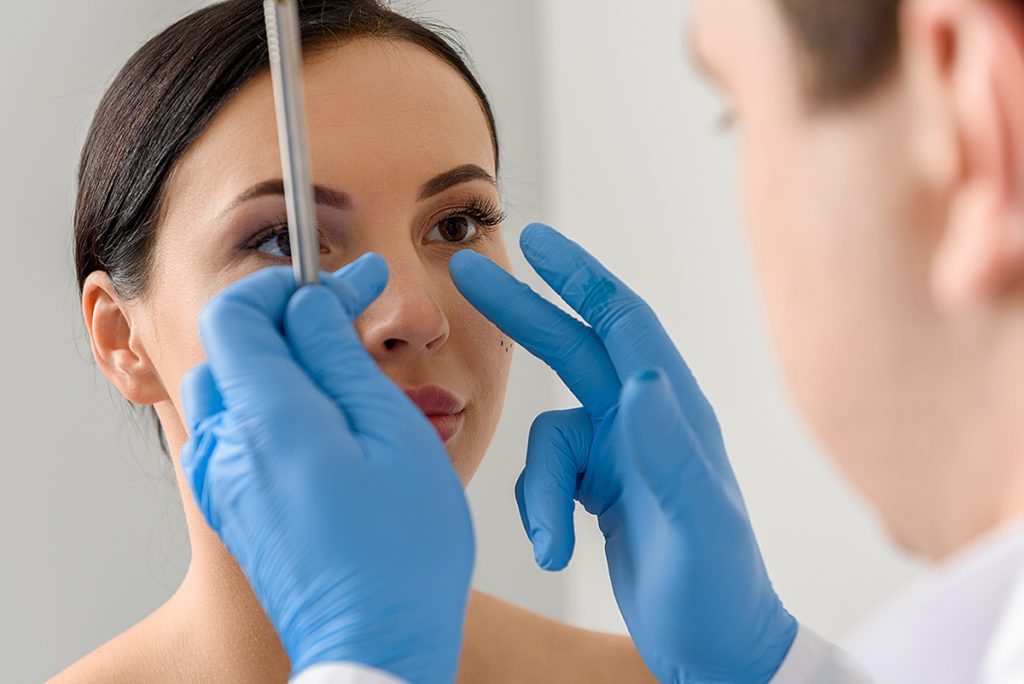 Whatever the size or characteristics of your individual nose, there is a natural attractiveness when your facial features complement your nose, and vice versa. And, because the nose is central, even small changes to it can dramatically enhance (or disturb) your facial harmony. Enter the non-surgical rhinoplasty, which allows patients to make various subtle adjustments with a quick treatment.
Town and Country recently highlighted the benefits of non-surgical rhinoplasty, who is a good candidate for this simple procedure, and why it might be a good fit for you. We'll share key points, plus get Dr. Alexander Sobel's expert input on this popular option.
What is non-surgical rhinoplasty?
Traditionally speaking, rhinoplasty involves surgically reshaping bone, cartilage, and skin, which permanently alters the appearance of the nose to help achieve greater facial harmony. Surgical rhinoplasty typically involves a week or so of downtime, and results take six months or more to fully settle in.
But, while surgery is needed to make subtractive changes to the nose and remains the best choice for some patients, not everyone is ready to undergo surgery and recovery. Nor does everyone desire permanent changes to their nose.
That's where dermal fillers come in. Non-surgical rhinoplasty has surged in popularity in recent years, as it is a very quick, often cheaper option to improve nasal shape without downtime. With the right analysis, a highly-skilled facial cosmetic surgeon can use injectable fillers to subtly modify your nasal contours for up to a year (depending on the filler used).
Which fillers are best for nose reshaping?
Voluma, Radiesse, or Juvederm can be used for non-surgical rhinoplasty procedures, but which is best for you will depend on your goals. Some patients wish their nostrils could look smaller, while others may want to soften a bump on the bridge; each of these circumstances requires quite different qualities in a filler. It's also important to keep in mind that the nose is a complex feature and we can't simply focus on appearance when making modifications: retaining optimal functionality is another important consideration.
Below are some more examples of how fillers can help you improve your nose's shape. 
Refining the bridge of the nose
Known for its ability to enhance facial volume, Voluma is a great option to treat the length of the nose, including the dorsum, radix, and bony vault. If a patient has a mild bump or an asymmetrical bridge, injecting Voluma can help straighten the nose and create a smooth appearance. Sometimes, Dr. Sobel will use Radiesse for more complex irregularities.
Improving the lower portion of the nose
If a patient has nasal valve incompetence, such as shrunken nostrils or complains of a misshapen tip, Dr. Sobel will typically use Juvederm. This versatile filler can be great for treating tip bifidity (a pronounced groove on the nasal tip between the nostrils) and providing volume to the alar sill, where the nostrils meet the face. For the columella (the area at the bottom of the nose in between the nostrils), Dr. Sobel will use a sturdier filler like Voluma.
Treating the chin or jawline to improve the appearance of the nose
Sometimes, it's not the nose itself that needs attention, but a prominent or weak feature on other areas of the face that make the nose appear too large. For example, if the chin is smaller, using fillers to augment the chin or enhance the jawline can help balance out the size of your nose in relation to the rest of your face. Dr. Sobel chooses Voluma or Radiesse in these instances.
Am I a good candidate?
If you do not need to improve the function of your nose (i.e. problems with breathing, snoring), and you are looking for a subtle change in appearance, non-surgical rhinoplasty could be a good fit for you. This option is ideal for temporarily improving minor flaws on the bridge, tip, or nostrils to help achieve a straighter, more proportional nose. It can also help patients who have a weak chin or jawline.
Major restoration to correct a deviated septum or severely misshapen nose will require surgery, but in these cases, patients typically welcome the brief recovery period in exchange for obstacle-free breathing and a more symmetrical nose.
The best way to know if non-surgical nose reshaping is appropriate for you is to come in for a free consultation with Dr. Sobel. You'll be able to frankly discuss your concerns and hopes and get Dr. Sobel's expert input, based on his decades of experience. Contact us today to learn more.