Why We Draw on You Before Plastic Surgery
Dr. Sobel explains why meticulous marking methods are imperative to success with liposuction, breast augmentation, eyelid lift, and other procedures.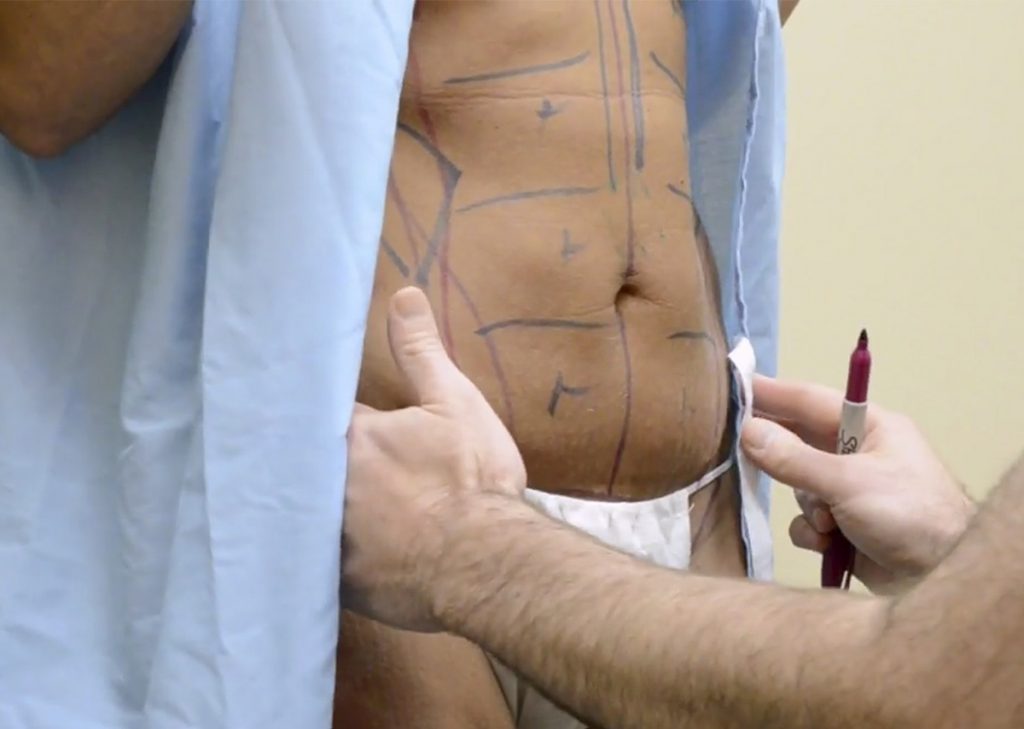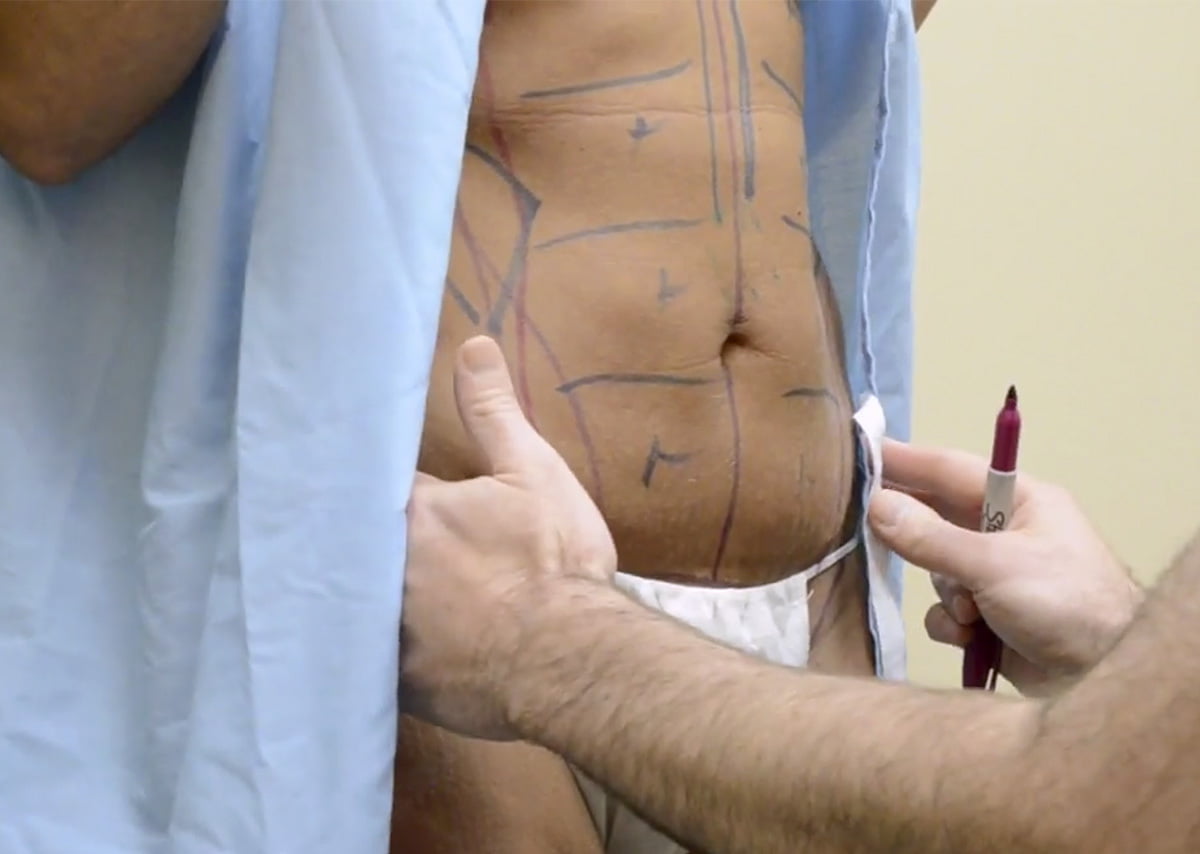 "Is that PERMANENT marker?!?"
Hundreds of patients have asked me this question, thus testing my degree of wit in my response. (Megan, my chief nurse of nearly six years, would tell you that I generally fail utterly.) The simple, albeit unhelpful, answer is yes. However the truth of the matter is that skin is not permanent—your body is continually renewing skin cells—and the solutions we use during surgery cause the marks to fade. The point is, worry not about walking around with strange patterns on your body for weeks.
Most patients seem to enjoy the pre-op marking session, as it's the first tangible sign that their long-awaited cosmetic procedure is really about to happen. Others have some apprehension about it—if not to entertain and confirm the patient's expectation that "this is just like TV," then why do plastic surgeons mark your skin?
This is a great question, so I thought I'd share the reasoning behind why I mark on my patients, and how doing so helps you get a great result.
Marking affirms the treatment plan with my patient
Unlike with surgery done out of medical necessity (i.e., an emergency appendectomy), I have the ability to get to know my patients very well. By the day of their surgery, the patient, my team, and I know the plan inside and out. However, safety and prudence dictate a "correct patient, correct site" marking before every procedure, no matter what.
This is particularly important prior to liposuction, where there is often variation in what body part the patient refers to and what the surgeon sees. For example, what a patient calls her hip may very well be her outer thigh from the surgeon's perspective. A marking pen is the the most reliable way to obviate any confusion. And, although liposuction is primarily performed "by feel," the areas I treat with greater definition (e.g., abdominal contour, muscle sculpting) require visual aids informed by preoperative marking.
Marking a patient before liposuction

Marking my patients gives me an opportunity to explain their procedure visually as well as ensure a great results.
Those pen marks help me defy gravity
Gravity is an oft-heard (and oft-maligned) word cosmetic surgeons hear from patients seeking improvement or rejuvenation in certain areas. Marking a patient in a standing position, where the patient is most comfortable and the surgeon can most effectively account for gravity, is necessary for fairly obvious reasons. For instance, with breast augmentation, a patient will look very different on the operating table than they do standing preoperatively. Even sitting the patient up prior to the end of surgery to double-check for symmetry and proportion is no substitute for careful evaluation and marking before surgery, in the standing position.
Marking creates symmetry
Whether you are awake, sedated, or asleep for your procedure, I use local anesthetics to eliminate discomfort during surgery and avoid bleeding during and after surgery. Although these local anesthetics greatly benefit my patients, they distort symmetry. Therefore, placing accurate markings prior to their use is absolutely necessary to ensure a symmetrical result.
Blepharoplasty (eyelid lift) with brow lift is a classic example. Improved symmetry and "just right" positioning of the rejuvenated brow and eyelids rest on meticulous measurement and marking. This is so important that I use a special-order, single use fine-point pen, designed specifically for eyelid use, before each eyelid procedure.
Making pen marks is necessary to conceal scars
The best way to make sure scars are concealed is to mark where they cannot be. For instance, with brachioplasty (arm lift surgery), the scar must be confined between the folds that define the front and back of the armpit—anywhere outside this area, and they'd be noticeable when you're not wearing sleeves. Marking an arm lift patient in the standing position, with arms at their sides, allows me to mark where the arm meets the skin folds, front and back, and thus confidently optimize the lift in their arms without risking a conspicuous scar.
It's my map for a complex procedure
Consider a breast lift with augmentation, one of the most highly complex procedures in cosmetic surgery. The breast mound is reduced and lifted, the nipple is repositioned, the distance between neck to nipple to breast fold is balanced, and the width of the breast is narrowed. On top of all of this, a breast implant is placed and positioned—all in one procedure. Further, optimal symmetry between the two breasts must be obtained.
You can see how marking for this procedure consumes the most ink and variety of color out of all the cosmetic surgery procedures I perform—drawing out a "map" is key to a great result.
It lets me take one more visual trip through the procedure
The first time I "perform" a procedure on a patient is during the consultation, in my mind's eye. Especially for rhinoplasty and otoplasty, I will do the procedure several times in my head. The penultimate of these procedures, culminating in the actual operation, happens during the preoperative marking session. For these particular operations, the markings themselves are somewhat less critical than the pause to evaluate my planned sequence of interrelated surgical maneuvers one last time, but this makes them necessary all the same.
Marking helps my patients relax
Happy and relaxed patients have a better anesthesia experience, whether awake or asleep.  The marking session is a great opportunity to inject some levity if patients are nervous during the pre-anesthesia preparation period. Abdominoplasty is my absolute favorite example of this: although the pre-op markings are of little surgical consequence (I redraw the marks after completing the liposuction of the abdomen), it is an absolute joy for me to show the patient how the abdominal skin that has frustrated them so much will be gone in a couple of hours.
Every cosmetic surgeon has their own artistic style
Keep in mind that all surgeons mark their patients differently and use this "drawing" session in the manner that helps them accomplish their best and most reproducible results. You should feel comfortable asking your surgeon questions about your markings—they will likely be thrilled to share their process with you.
If you are considering a cosmetic procedure for yourself, I invite you to come in for a consultation at my Bellevue cosmetic surgery center. During our time together, I will be more than happy to go over the details of what happens before cosmetic surgery, including the marking process and how my staff and I prepare on our end to provide you with an excellent result. Please call 425-453-9060 or contact us online, if you prefer.