3 Reasons Why Seattle Summers Are the Best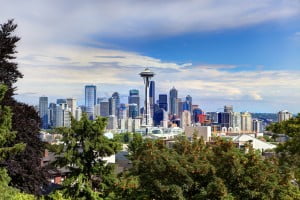 With over 200 days per year of grey skies, foreboding clouds, and scattered showers, it's safe to say we Seattleites are anxious for summer by the time it arrives—and we definitely know how to do summer right.
Thrillist agrees, and they recently published an article of "17 Reasons Seattle Summers Dominate All Other Summers." We wanted to highlight some of their reasons and throw in a few of our own, so keep reading to see why Seattle summers are our favorite.
1. Seattle Has the Best Weather for Enjoying Fun in the Water, Says Science
Recent studies have shown that Seattle has the perfect beach weather during mid-summer months, with comfortably mild temperatures, a cool breeze in the evenings, and incredibly low humidity. It's warm enough to warrant a dip in the chilly waves, but not so hot that you feel like you're walking across the sun when you move between your beach blanket and the water.
That's great news, since we are surrounded by lakes, bays, and the ocean. If you're looking for a place to soak up the sun or splash around, you won't have to look far. Some of our favorites in the office include Lake Union and Dash Point Beach.
2. You'll Never Be Bored
The variety of things to do in Seattle during the summer is awe-inspiring. From watching a movie in the cool summer breeze at the Fremont Outdoor Cinema to pedalling between food trucks on a free rental bike, there's ample opportunity to get out and enjoy our season of perfect weather.
To top it off, it seems there's a festival for something happening almost every day. You can sip on a lavender margarita while perusing artisan crafts and body goods at the Sequim Lavender Festival, and then skip right over to the King County Fair for rides, snacks, and displays—all in the same day! Music lovers can't miss Bumbershoot, the much-loved contemporary music festival. And for those with gaming and tech on the brain, PAX is a must-do.
3. Our Summer Food Scene Will Tickle Your Tastebuds
Seattle offers a huge variety of great food all year round, but during the summer a new world opens—you can enjoy your breakfast while basking in the sun at outdoor eateries, plan a picnic lunch in the park, or explore our thriving food truck scene. Here are some of our favorite summer stops:
Stop by Molly Moon's and take your cone to go. You'll love exploring the area with a sweet treat in your hand (instead of an umbrella!).
Work in Bellevue? Walk to the alley next to Barnes & Noble to find a tasty barbecue lunch at the Panhandle Barbeque food truck.
In the mood for a unique take on shellfish? Check out The Walrus and the Carpenter's breezy outdoor seating to sample some fried oysters or an artisanal cheese plate.
What are some of your favorite things about Seattle summers? Let us know in the comments below!