Top 6 Things You Didn't Know You Could Do with Pumpkin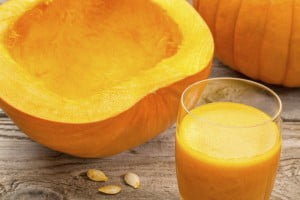 Fall is here, the season famous for cool weather, changing leaves, and, our favorite, pumpkin everything! If you've been to your local Starbucks lately, you might have already indulged in a Pumpkin Spice Latte (PSL). What you might not know is that this popular gourd is good for so much more than sweet drinks and treats. Here are some surprising uses for pumpkin that celebrate the versatile nature of this seasonal squash:
1. Pumpkin Will Please Your Pores
Pumpkins are rich in vitamins A and C, both of which are powerful antioxidants that help soothe skin and boost collagen levels, providing anti-aging and rejuvenating benefits for your skin. Also high in zinc, pumpkin can reduce acne and the inflammation associated with it. Give this facial a try for an easy pumpkin beauty product to pamper your skin.
In a large bowl, mix 4 tbsp. organic pumpkin puree, 4 tbsp. honey, 1/2 tbsp. Greek Yogurt, 1 drop of sandalwood oil, and 1 drop of carrot oil until well blended. Cover the bowl and refrigerate for about 30 minutes. Once cool, apply to your face and let sit for 15 minutes before rinsing with warm water. Pat dry with a clean towel and luxuriate in the feel of your soft skin.
2. Re-Moisturize After a Harsh Summer
Pumpkin also contains high levels of beta-carotene, a compound that helps to protect cells against sun damage. The following DIY beauty treatment is perfect for helping your skin repair from the summer months. Simply mix even parts of coconut oil and pumpkin puree, then add a dash of ground cinnamon. We suggest applying it while in the shower, as it can get messy—just make sure you're careful not to slip! This powerful blend will leave your skin feeling smooth and supple.
3. Beautify Your Space
Pumpkins are hardy and can withstand the elements for weeks, making them a great outdoor accent. And we're not just talking about Jack-O-Lanterns! This fall, create a pumpkin planter by cutting off the top and scooping out the seeds (hold on to them though, we have other ideas!). Flip the pumpkin over and drill four holes in the bottom for drainage. Fill the pumpkin cavity about 1/4 full with good quality soil and then place your chosen plant inside, adding additional soil on top as needed. When choosing a plant, make sure they're similar in size for the best result. For medium-sized pumpkins, we love the look of Autumn Joy Sedum.
4. Keep Neighborhood Birds Happy
Once you're sick of munching on pumpkin seeds, save the leftovers and help keep the neighborhood critters well-fed before winter. Pumpkin seeds are great treats for your local animal kingdom, particularly birds. You can either throw them out raw (pumpkin guts included!) or dry them a bit in the oven first—the birds will go crazy!
5. Kids Science Project
Did you know you can find the DNA of a pumpkin? It's a great project to do at home with children aged 7-12. All you need is one small pumpkin, 1 tbsp. salt, 1/4 cup dish soap, rubbing alcohol that has been chilled in the freezer, a coffee filter, and a funnel.
Cut the pumpkin into half inch chunks and place in a blender. Add about a half cup of water to get the right consistency, similar to applesauce. Now add the salt and dishwashing detergent to extract the DNA. Next filter the pumpkin puree and soap mixture with the coffee filter and funnel into another container. Let settle and slowly add the chilled alcohol. Watch carefully as the layers begin to separate—you'll see a white, slimy layer of goo at the top of the container. That's its DNA!
6. Indulge in a Seasonal Adult Beverage
Finish it all off with a pumpkin cocktail! These days, there are a wide array of alcohol flavors—simply walk down any vodka aisle in a liquor store, and you're likely to see at least 30 different flavors. For a festive, fall cocktail, we suggest a pumpkin spiced martini. In a shaker, add ice, a tablespoon of pumpkin purée, and top it off with two ounces of the flavored vodka of your choice (we suggest vanilla or cinnamon). Add a splash of lime juice and a tbsp. of honey, then shake and strain into a glass. Enjoy!
What are some of your favorite things to do with pumpkin? Let us know in the comments below!