This Summer, Let's Appreciate Our Washington National Parks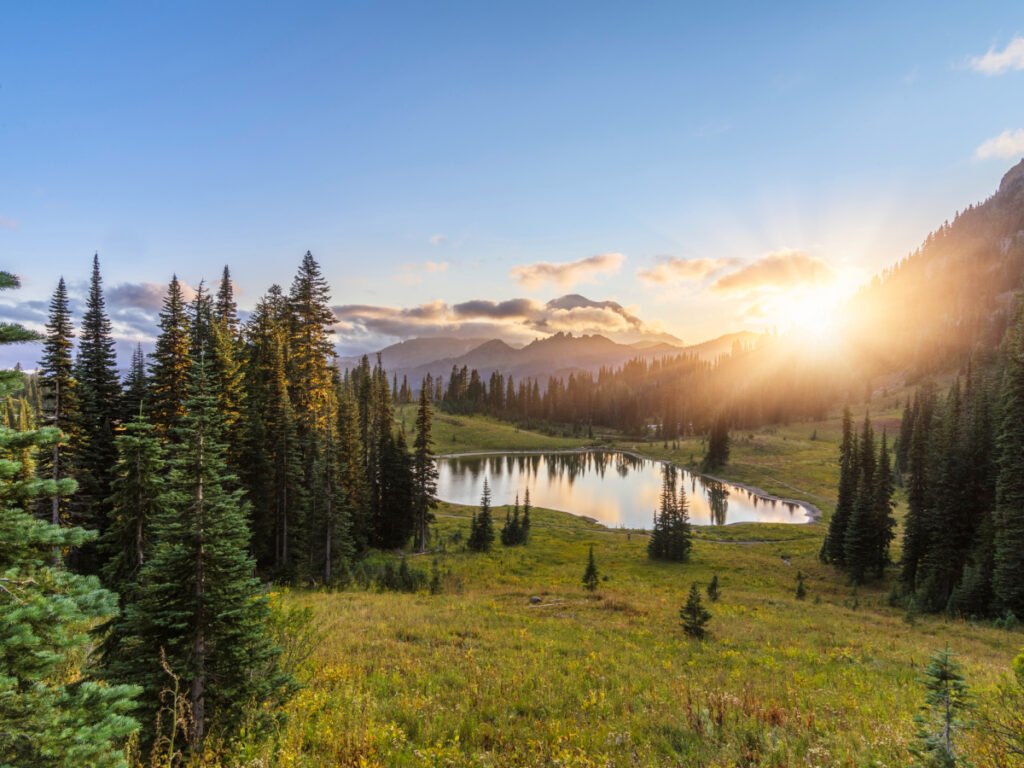 July is National Parks and Recreation month, and here in the Seattle area, we are surrounded by some of the most breathtaking parks in the country. Summer is the perfect time to get out and appreciate our beautifully preserved natural landscape—and you don't have to take a week off of work to hit the "refresh" button. With these three options, you can enjoy the best of what nature has to offer over the course of a day trip or a weekend getaway.
Three Climates in One: Olympic National Park
View this post on Instagram
Spanning much of the Olympic Peninsula, Olympic National Park offers a plethora of diverse and downright mystical landscapes within one national park. Mountains, rivers, forests, and the ocean all contribute to one breathtaking ecosystem that's ripe for exploration. You will have many choices for how to spend your time at Olympic, so read through the park's website ahead of time or begin your day at one of the Visitor's Centers.
In a day trip from your home base in the greater Seattle area, you can enjoy:
Waterfalls
Rainforest
Hikes of all difficulty levels
Tidepools along the rocky coast
Relaxing hot springs
Whale spotting
Spectacular mountain views
Camping
Boating
Hotel lodging
If you only do one thing, be sure not to miss out on the Hoh Rainforest—one of the only temperate rainforests in the lower 48 states. This maple forest has a quiet and ethereal mood, full of moss and fern that are best enjoyed on an overcast day. You will have opportunities for family-friendly rainforest hikes and camping at the Hoh Rain Forest Area; or, take the 17.4-mile Hoh River Trail that connects with Glacier Meadows. You may even spot some incredible wildlife, such as elk, but be sure to keep a safe distance of at least 50 feet!
Pro tip: Wear waterproof shoes—many trails in this park can become muddy during the wetter months, from about November to April.
Recharge in a Stunning Alpine Landscape: North Cascades National Park
View this post on Instagram
North Cascades National Park is about a 3-hour drive from Seattle, but it is well worth it for those seeking a quiet place to recharge. The rugged Cascade mountains create a remote sanctuary away from the city where visitors can enjoy activities like hiking and climbing. Or, if you're looking to "log off" completely, hop on a boat for a stay at Stehekin! This community is only accessible by boat, foot, or plane. There, you can stay in a lodge run by the National Park Service—and rest assured you will have zero cell phone service.
Pro tip: Before you go, read up on bear safety—this rugged habitat is beloved by black bears and grizzly bears, alike.
Be sure to #recreateresponsibly: Start by checking the status of each park you visit ahead of time; each park website offers real-time updates and alerts. Carefully pack everything you may need—maps, food, water, and hand sanitizer—in case facilities are not open or roads are closed, requiring a last-minute change of plans. Prepare a backup plan in case your desired destination is full, and wherever you end up, remember to leave no trace!
Retreat to the Mountain: Mount Rainier National Park
View this post on Instagram
The closest national park for a weekend getaway, Mount Rainier National Park centers on an active volcano, covered in abundant glaciers that supply five different rivers. Here, you'll find plenty of day hikes, as well as climbing and backcountry activities.
For a popular day hike, consider visiting the Grove of the Patriarchs or hike to the Mount Fremont Overlook near the Sunrise Visitor Center. Or, steer clear of crowds and have a more no-frills experience at the Carbon River Trail, located on the northwest corner of the park closest to Seattle.
You can easily plan a day hiking trip to Mount Rainier last-minute. But much of this 97% wilderness park can't be reached by car, so Rainier offers special rewards for those who are ready for backcountry camping! Plan ahead for climbing, backcountry hiking, and backcountry camping by securing a permit for these activities.
Pro tip: Mount Rainier gets a lot of traffic during the summer, so consider carpooling, visiting on a weekday, or arriving early to avoid full parking lots. In case parking lots are full or your plans are foiled, come prepared with the National Park Service app downloaded to your phone and a backup plan! Look into other activities within the park, as well as nearby destinations in the U.S. Forest Service lands and at Crystal Mountain Resort.
About Anderson Sobel Cosmetic Surgery in Bellevue, Washington
Seattle cosmetic surgeon Dr. Alexander Sobel is triple board certified and a Seattle Top Doc. At Anderson Sobel Cosmetic Surgery, he offers cosmetic procedures for the face, breast, and body, including injectables and procedures for men. To learn more or schedule your consultation, call (425) 453-9060 or contact our practice online.