Juice Recipes to Aid in Your Recovery: "6-Carrot Gold"
For those recovering from surgery, homemade juice is a healthy and nutritious option. Whether you're already juicing or are hoping to start, it can feel overwhelming to figure out the perfect mixture to meet your needs.
To help make things a little easier for you, the Anderson Sobel Cosmetic Surgery staff decided to compile their favorite juice recipes to promote healing after surgery. If you liked our first and second juice recipes, be sure to check out our final recipe in the series below!
6-Carrot Gold
Carrots are a great source of beta carotene, a tried and true liver detoxifier. Additionally, it converts to vitamin A, which improves your wound tensile strength (the stress and pressure your incision can handle without tearing) and promotes healing. Bonus: this juice favorite also increases energy and alertness.
Ingredients: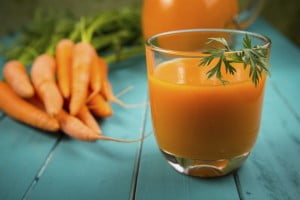 Handful of parsley
2 Granny Smith apples, quartered
6 carrots
To help release flavor, bunch the parsley in your hand prior to adding it to the juicer. Add it in with the large end of a carrot first, then follow with one apple, the remaining carrots, and the second apple. Depending on your preference, you can drink this juice strained or unstrained.
We hope you enjoyed our top homemade juice recipes for happy, healthy healing!