Juice Recipes to Aid in Your Recovery: "Pineapple Power Juice"
For those recovering from surgery, homemade juice is a healthy and nutritious option. Whether you're already juicing or are hoping to start, it can feel overwhelming to figure out the perfect mixture to meet your needs.
To help make things a little easier for you, the Anderson Sobel Cosmetic Surgery staff decided to compile their favorite juice recipes to promote healing after surgery. If you liked our first juice recipe, be sure to check out our second recipe in the series below.
Pineapple Power Juice
Did you know pineapples naturally contain bromelain, a digestive enzyme that has been shown to reduce pain and inflammation? Many physicians recommend bromelain supplements after surgery, but it's more delicious in the form of homemade juice.
Ingredients: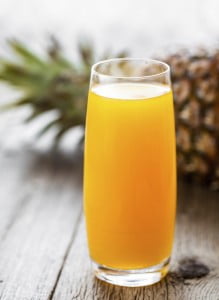 ⅓-inch slice of fresh ginger (can adjust for personal preference)
½ a pineapple, with skin
½ a papaya, seeded & sliced
Start with the ginger, then add the papaya and pineapple to your juicer. This simple recipe is quick, easy, and tasty. Strain, drink, and keep on healing!