What Is A Mid Face Lift And Why Restore Cheek Volume And Restore The Skin At The Same Time?
Many patients just don't get the full results they're looking for with a traditional facelift. Men and women who have sagging cheeks and deep nasolabial lines (the folds that flow from the base of the nose to the corner of the lips) are choosing the mid face lift instead, and are finding that the results are phenomenal.
During a mid face lift, the surgeon makes small incisions behind the hairline. The sagging cheek is lifted, creating a smoother and firmer surface. At the same time, nasolabial lines on either side of the mouth, which are commonly referred to as laugh lines, are lessened. The end result is a more youthful and more refreshed looking appearance.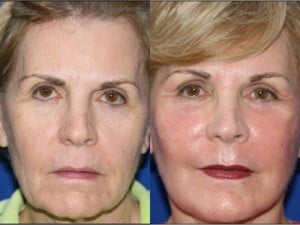 It is very rare that patients who would benefit from a mid face lift do not need restoration of their cheek volume. Most of us lose a significant amount of fat, and some bone, from our cheeks as we age or lose weight. This may lead to an aged, tired, or even, ill appearance. Restoring the volume with one of the following can prove outstanding: fat (as in fat grafting to the face), commercially available fillers (such as Juvederm Voluma, Radiesse, Artefill, Sculptra among others), and cheek implants. Of these, fat grafting to the face and Juvederm Voluma are my favorites. The Juvederm Voluma Seattle debut was in late 2013 and we started our Juvederm Voluma Bellevue program around the same time at Anderson Sobel Cosmetic Surgery. We have found a tremendous amount of lift can be accomplished with Juvederm Voluma compared to other products in the market and boasts an FDA indication of 2 years for volume restoration of the midface. Please see Allergan's (the makers of Botox) website for complete details: www.allergan.com.
Skin restoration is equally important in the rejuvenation of the midface. Often, the cheek shows pigmentation irregularities in the form of melasma, hyperpigmentation, sun spots, dyschromias, and photoaging. Skin resurfacing is thus key for a great result. There are a variety of ways to accomplish this; however, my preference is to use a TCA chemical peel. I typically perform a medium-depth peel for great pigment correction, pore size improvement, and even some wrinkle improvement. Tretinoin (Retin-A) and hydroquinone, usually as part of the Obagi formulation are helpful as well. Lasers can be used including CO2 and Fraxel CO2 or Fraxel Re:Pair, which I have been partial to in the past.
Further, patients often choose to combine this procedure with others to obtain even more noticeable results. Endoscopic forehead lifting, for example, gently lifts a sagging brow and the areas surrounding the eyes. This helps patients look happier and engaged, as opposed to the sad or tired look that plagues many people as they age.
The blepharoplasty is another procedure that complements the mid face lift. This eyelid surgery removes excess skin that droops on top of the eye. It results in a more open and younger-looking eye shape.
Excellent midface position and volume demonstrates a youthful and energetic look while reducing distraction from our most important facial feature, our eyes. The simple restoration of a heart-shaped face will make all other aspects of the face look more youthful. This is a contemporary, "big picture" approach; however, it is one that consistently makes my patients happy.