5 Fingernail Health Myths—Plus 3 Ways to Get Gorgeous Hands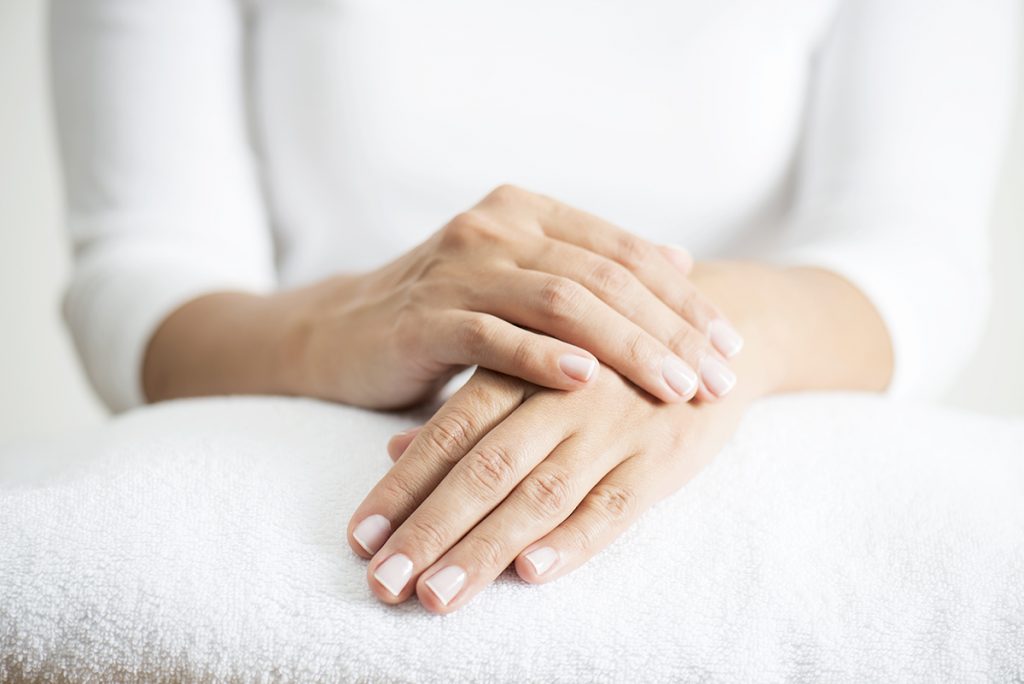 Whether you have engagement or wedding photos coming up or simply want more beautiful hands, these tips are sure to help.
Have dry weather and doing all those holiday dishes left your hands looking disheveled? All of us would like to have hands that look neat, beautiful, and well-manicured. That's a tall order if your hands are exhibiting problems such as yellowed nails, brown spots, and signs of aging. We've got tips and ways to help.
5 misconceptions about your fingernails
Fingernail health problems are often exacerbated by a lack of accurate information. It may surprise you that there a lot of myths about fingernails—a recent Well + Good post we saw debunked a number of them. Here are highlights as well as some tips from us:
Myth #1: White spots on your nails point to a calcium deficiency
Actually, it's much more likely that it's a sign of injury. Mineral deficiency rarely causes white spots on the nails.
Tip: Buy cut-resistant gloves to protect your hands when chopping food or doing other activities that are likely to cause injury.
Myth #2: You need to give your nails time to "breathe"
Don't sweat it; your nails get all the oxygen they need from your internal blood flow.
Tip: If you want an occasional boost in blood flow to your hands, get a hand massage as part of your manicure.
Myth #3: You should trim your cuticles.
Actually, the cuticles serve an important purpose, providing a protective barrier against bacteria. There's no need to cut them.
Tip: Let your manicurist know your preferences regarding cuticles. Most are experienced with various methods and happy to accommodate their client's wishes.
Myth #4: During a manicure, your nails should be soaked.
A good soak may feel nice, but a dry manicure can be every bit as effective. Plus oversoaking can dry out the hands, especially in winter.
Tip: If you need a quick polish change, there is no need to stress about getting a hand soak. If you enjoy soaking your hands, be sure to moisturize your hands as a protective measure before your manicure begins and again after the polish has dried.
Myth #5: You can leave nail polish on as long as you want.
Not true for darker polish colors. As stated earlier, you don't need to let nails breathe—but if you keep dark polish on for too long, it can cause your nails to turn yellow. This is especially true of darker shades of polish.
Tip: If you love the look of a perfect French manicure, make light polish colors your go-to choice; there are many beautiful lighter shades these days. When you do choose a darker polish, limit the time you wear it and use a couple of layers of clear undercoat.
3 Tips for Getting More Beautiful Hands
1. Moisturize and protect with SPF (especially physical sunscreen like zinc or titanium dioxide)
We're sure you've heard this, but it's so important, we want to revisit the subject! One of the main reasons our hands show early signs of aging is that they are exposed to the sun year-round. Additionally, many people will religiously apply physical-based sunscreen to their faces but forget the backs of their hands—or, if they apply it in the morning, forget to reapply after handwashing. Wear a physical sunscreen on the back of your hands and keep a small tube at the ready for reapplying.
2. Rejuvenate sun-damaged hands with laser technology or a peel
If you have concerns about fine wrinkles, brown spots, or other pigmentation issues, many facial rejuvenation procedures can be applied to the hands. An IPL Photofacial can do wonders for pigmentation issues and help reverse sun damage. Chemical peels are another way to renew the appearance of your hands.
3. Use nano fat injection or dermal fillers to provide a more youthful look
If your hands have become hollow-looking or simply aren't as shapely as they used to be, we can use a dermal filler like Radiesse, FDA indicated for hand rejuvenation, to rejuvenate your hands. Just as filler injections do for your face, they can also add volume to your hands, delivering a lasting, more youthful appearance. Fillers for hands can also help minimize the appearance of wrinkles and fine lines, so if you worry that your hands look too old, this can be a procedure well worth exploring.
Nano fat (ultra-micronized fat injection) helps restore lost fat on the back of the hand without the irregularities possible with traditional fat grafting. Additionally, nano fat includes your own stem cells (adipocyte line) to enhance the appearance of the overlying skin and, though your hands will continue to age, can provide very long-lasting results.
Learn More About Bellevue Hand Rejuvenation
If you have any further questions about Bellevue hand rejuvenation or about the best practices for keeping hands and nails looking their best, reach out to us at any time. Our skincare experts would love to help!